departure from regular programming...
Cleverish. For a number of months I have followed the progress of the Neilson family. An amazing family, richly documented
here
by Stephanie, the mama. Mr. and Mrs. N. were in a small craft plane crash in August and have been fighting for their lives for the better part of the time since. Badly burned, medically induced comas. This gorgeous young couple has 4 capitivating children. Little cherubs really. What a scary time for them.
What has grabbed my attention the most throughout this saga is how the family's family has encircled and protected them. They have all stepped up to help, they have had auctions and fundraisers. Devoutly, they have reveled in their faith. A time when I believe faith could be rocked to the foudation and could even be abandoned in sorrow and anger. Instead, these people have risen to the occasion. I kind of want to adopt them as my own, please.
Anyways, cleverish - right. The book - it is a compilation of 25 funny and unrelated blog posts from various bloggers. People submitted entires to be part of this project and now it is for sale at Lulu. Proceeds benefit the Neilsons - and gosh, I have been lucky enough to steal a peek into their story wondering how I could help - so I bought the book. I giggled out loud at least three times last night - it's a different kind of reading that my usual but what a joy. And it has a pretty cover.
It's deemed a donation, but really, the prize is all mine.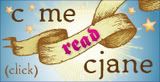 You can follow along with the Neilson's progress through the eyes of one of mama's sisters, Jane blogs about her days - at one she literally absorbed 3 of the children into her family, formerly 3 become 6 in an instant - it's pretty awe-inspiring. The latest good news is that Stephanie is back to blogging - I truly believe that she may be an angel.